Some of you might have gotten some emails from Zoosk lately, letting you know that another Zoosk user has sent you a Friend Request on our site. Congratulations! This means that someone wants to be your Zoosk friend. Takes some of the pressure off dating when you can start off as friends, right? Making friends on Zoosk has never been easier.
Right above you seen what a Friend Request notification email looks like once you open it in your inbox. Now, in addition to winking, emailing, virtual gifting, connecting on our message board, or liking a person's profile, you can send other Zooskers a request for friendship in order to get noticed. You don't have an excuse not to flirt, not while we're giving you all these fun options!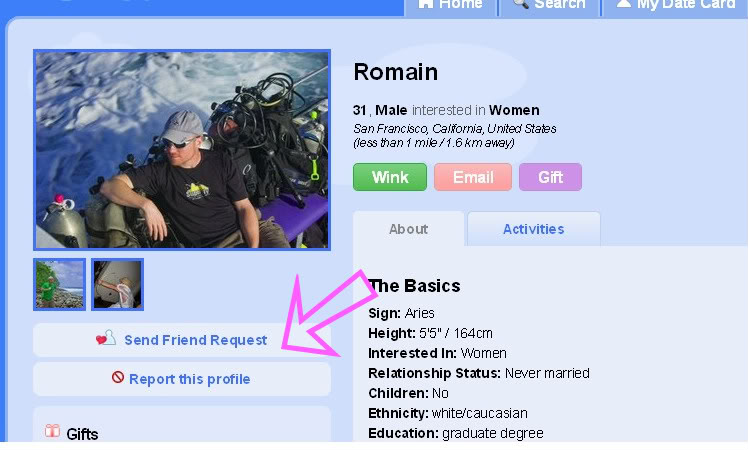 To send a friend request, all you have to do is click the "Send Friend Request" link that's now on every Zoosk Date Card. It's located right below the Zoosker's photos, where the arrow is pointing.
On your profile, you can see your pending friend requests. Here, you see this Zoosker has 1 pending request. To confirm or deny the request, you simply click on the link where the arrow is pointing, or you can click on the Friend tab, which you see below.
This tab, on the far right, is where all your friends will be located once you confirm them. The yellow highlighted text is a link that lets you know you still have pending requests.

The green button confirms this Zoosker as your Friend. The red button denies them. Whether to add someone as a Friend is totally up to you! If you decide to add the Zoosker, they'll be moved to the Friend tab where you can easily find and contact them.
Now you know all the ins and outs of Friending people on Zoosk. What are you waiting for? Go make some Friends!