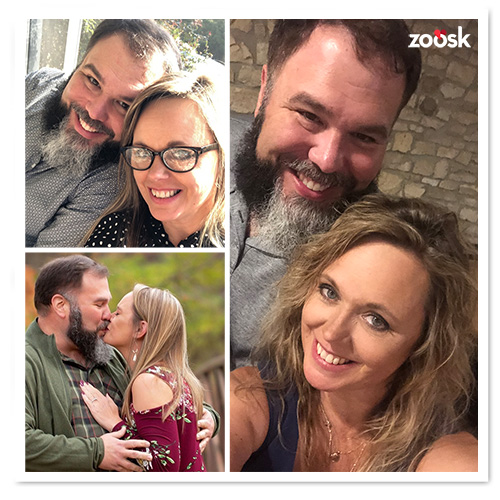 After previous unsuccessful attempts at online dating, Angi and Walt both decided to give it another try, this time with Zoosk. Walt's smile caught Angi's attention, and today he is still smiling that smile, as last month she said YES to spending her life with him!
She writes:
"I tried online dating briefly and just didn't think it was for me, but as I was sitting home alone as usual, I decided to give it another try. When I came across Walt's picture, I knew I had to meet the guy with that amazing smile!! A year and a half later he asked me to spend our forever together! I am so thankful to have this wonderful man in my life and thankful for Zoosk for helping us make that connection!"
He writes:
"I had tried all the other dating apps with no one that caught my interest. I decided to try Zoosk because friends encouraged me to try it. Well here comes this pretty lady that reached out to me on Zoosk! We started talking and soon after, we decided to meet for dinner! It was quick to see that her beauty was much more than on the surface. Last month I asked her to marry me and she said YES! Thank you Zoosk for helping us find each other! We are so blessed to have found each other and look forward to spending the rest of our lives together."
You two are adorable together, and we are so pleased you found each other on Zoosk! Here's to your lifetime of happiness together.
Are you ready to start your own love story? Sign up here today! If you've already met the one using Zoosk and want to share your story, you can share the details here.