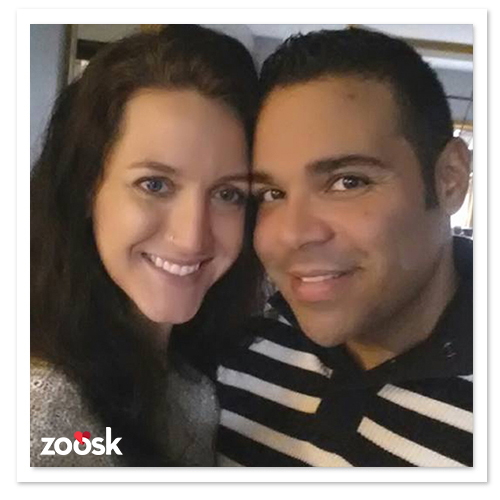 Sometimes in love, you just need to trust, take a leap of faith, and see what happens…
Joanne shares her heart-warming love story:
Trust:
"I met Eddie on Zoosk the day after I signed up. He winked at me, and I decided to start up conversation. After two days of chatting on Zoosk, I gave him my phone number. We talked via text all day everyday for almost two weeks before we met. He wanted to meet sooner, but I was shy. I am a single mother of a beautiful 4 year old boy, and this was my first experience with online dating, so I wanted to tread carefully. Also, since we lived 100 miles apart, our first meeting took some planning."
Leap of Faith:
"We shared an intense connection from the first time we met. The night went great, besides the fact that I felt like I was being interviewed for a job here and there. It was the professional businessman in him coming out, which was kind of endearing. After three months, I moved in with him. Many people thought I was crazy, especially because I am a cautious person and this was not in my character. But, I didn't have any doubts about it or about him. I even told my sister when I was getting ready for our first date that I had found the man I am going to marry.
This month, we are officially announcing our engagement to all of our friends and family. We plan to get married this year. I would also like to mention that when I started this whole dating thing, I was a skeptic, I didn't think I would ever have that fairy tale love story. But I do, and I love him with all of my heart. I feel so lucky to have met him. Thank you, Zoosk!"
Are you looking for your future fiancé? If so, sign up here. If you've already met that special person using Zoosk and want to share your story, please share the details here.