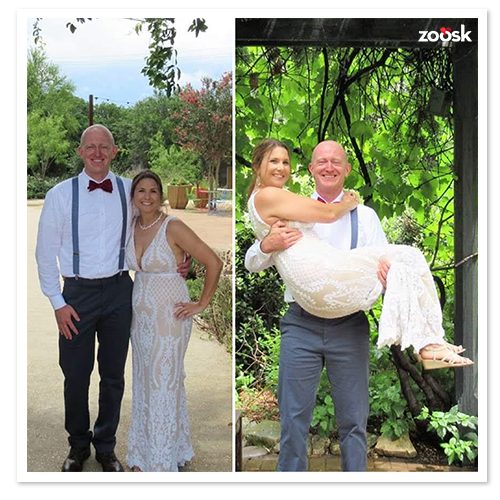 It's the little memories that will last a lifetime. Melanie and Matt are having fun making sweet little memories.
She writes:
"Matt and I matched on Zoosk in March 2018. I had been on several first dates from online matches that amounted to nothing more than a first date. I had decided ahead of time that Matt would be my last first date because, as a single mom, the effort of it all with no success was getting exhausting. We met for our first date at Kona Grill at 6pm, continued on to a concert, and then decided on a late-night bite after because we were having so much fun together. We knew after that first date that we had something, which quickly grew into us wanting to spend all of our time together. We have the same personality and spend the majority of our time laughing and joking. My dog, who hates everyone, immediately took to Matt with no hesitation. And, my two kids love how fun he is. We got married in June 2019 and look forward to a lifetime of memories together."
We wish you two a lifetime of fun and happy memories. 🙂
Are you looking to go on your last first date? If so, sign up here. If you've already met that special person using Zoosk and want to share your story, please share the details here.