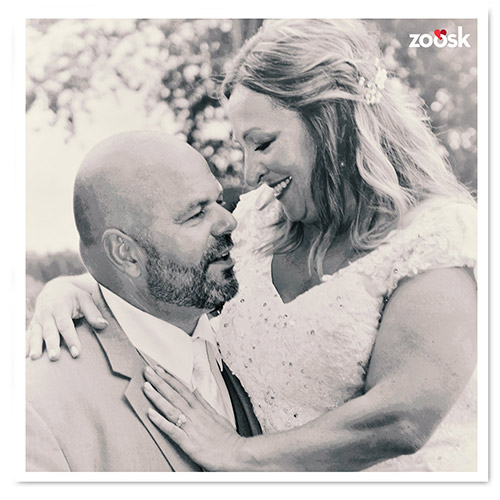 Another Zoosk marriage! 🙂 Rene finally found her missing half in Martin, after year upon year of unsuccessful dating. She shared their story with us.
She writes:
"Martin and I met after connecting on Zoosk. Prior to our actual meet-up, we had a phone conversation that lasted 13.5 hours, and we still did not want to get off the phone! After years of meeting the wrong one over and over, Martin and I had instant chemistry. We had the same dreams, the same values, and never ran out of things to say to each other. Our first date was 8/29/17, and we married on 9/2/2018. I fall more and more in love with him every day. Our children blended, our families blended, and so did our dogs. I thank Zoosk for helping me to find my prince. My life is complete now as I walk through it with my true other half. Thank you!"
What beautiful words! We're so happy for you both, and wish you continued happiness together!
Are you ready to start your own love story? Sign up here today! If you've already met the one using Zoosk and want to share your story, you can share the details here.